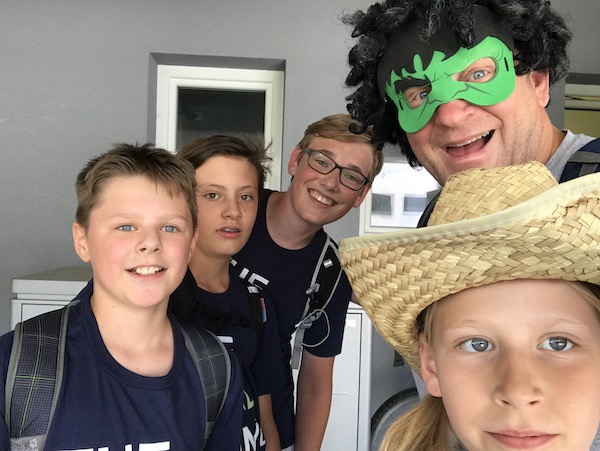 The Reach Global Innsbruck Team offers summer camps for Austrian teens, ages 12-18. Our camps provide youth an opportunity for both great fun and improving their English! At camp, they will get the chance to meet new people, create lasting friendships, enjoy the outdoors, and learn about God. Our goal is for everyone to have an unforgettable week! Many say it is the "best week of their life."
We have been offering English Camps in Austria every year since 1993 with a capable and mixed team of Austrian and native English speaking American counselors. Around 130 Austrian teens join us each summer at English Camp and we hope you will come experience it too!,
What will you experience at English Camp? Daily English lessons and unlimited conversation practice with native English speakers in a fun, relaxed environment, outdoor adventures including hiking and swimming, great group games, a fun chapel time that includes music, games, skits, and a speaker, great food, fun staff, and so much more! 
English Camp was an international effort started in Austria in 1993 by ReachGlobal and Shamineau International (Camp Shamineau, Minnesota, USA).
 Our Austria-based team did most of the planning, preparation, registration, and recruiting of Austrian staff, while Shamineau International recruited our native English speaking staff from the United States.
This unique partnership resulted in American staff serving at English Camp in Austria every summer and many Austrian staff heading to Camp Shamineau to serve as Counselors and Jr. Counselors on their Summer Mission Team (SMTs) for 6 weeks.  Many of our camp games, traditions, and activities come directly from Camp Shamineau. Although Shamineau International no longer does our U.S. side of recruiting, Camp Shamineau still welcomes Austrian staff who are wanting to take a leap of faith, grow in their walk with Christ, build their leadership skills, and serve in the United States for the summer.
Today, we continue our partnership with Team Jugend of the Bund Evangelikaler Gemeinden in Österreich and ReachGlobal EFCA in America. Our experienced staff plan a camp program that offers a variety of fun as well as quality learning experience in a safe and friendly environment.